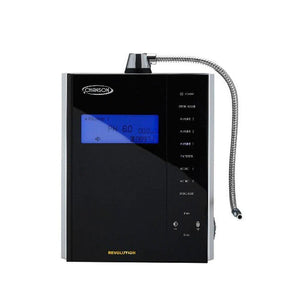 Chanson Revolution Counter Top Water Ionizer
Chanson Revolution Counter Top Ionizer is
 well-suited for restaurants, schools, gyms, businesses, etc. Like the 7-plate Miracle Max, it has the Himalayan rock salt port and the largest plates on the current market. 
Kills surface bacteria on fresh fruits and vegetables, countertops, cutting boards, dishes. Cleaning without chemicals.

Ionizes Acid water has antimicrobial and astringent properties. NOTE: for external use only not for consumption.

Super lightweight and portable (weighs is less than 9 lbs )

Super easy to install and has minimal water leak potential.

9 plate, a commercial-grade performance.
Advanced All Touch Panel.
Safe non-toxic plastics used inside the ionizer
Thoroughly tested and approved by the CE organization.

ROHS compliant- materials are FREE from BPA, Lead, Mercury, Cadmium, and Iron

Full lifetime Warranty on Parts and 5 years on labor
Chanson Revolution Counter Top Water Ionizer Includes the following: 
~ Integrated wall mount inserts on the back of the unit.
~ 9 plates Commercial-grade performance
~ Port - For adding Himalayan Salts
~ Advance All Touch Panel
~ Onboard water flows adjustment lever for fine-tuning water flow. 
~ Pulse width electronic delivery system - allows better results at lower power levels.
~ Notification Alarm:
Low and high water flow alarms let you know you are not getting Maximum Ionization
Change Filter Notification.
Auto Alarm and hot water sensor
Speaks for all  functions and settings with adjustable volume
 More Uses:
To clean and sterilize without chemicals - 

Kills surface bacteria on fresh fruits and vegetables, countertops, cutting boards, dishes.

For hair and skincare - ionized acid water is used to add smoothness to the skin 

and sheen to hair.

To removed lead with antibacterial fiber activated carbon filter.
Does a Chanson Revolution Need a Pre-Filter?
 Definitely Yes, like all Chanson ionizers, the Revolution uses the JP6000 filter and we recommend pre-filtration for all customers. Ionization causes the water molecule to be smaller, potentially concentrating any contaminates. Pre-filtration removes a greater percentage of chlorine, chloramines, fluoride, arsenic, heavy metals, bacteria, pharmaceuticals, and other contaminants than any brand of ionizers onboard filter can by itself. Buy one to protect your health.
Reasons why you should choose Chanson Ionizers:
Chanson is a well-known household name in Taiwan for over 30 years as a water filter manufacturer with a stellar reputation for quality and affordability. 
Tested 100% of their ionizers before shipping to ensure the highest customer satisfaction and lowest defect rates.
They provide a full line of advanced alkaline water ionizers, water filters, filter replacements, and cartridges to meet your families' water, ionization, and purification needs.
They own a number of patents including our "Nano coating" process which provides an extremely dense and conductive electrode surface that creates superior ionization.
The only water ionizer manufacturer that produces 100% health products. 
We have an NSF certification on our filters and we are proud members of the Water Quality Association.
Chanson's advanced circuitry and electronics not only provide some of the most powerful ionizers on the market but also the most compact and space-saving, our countertop models are up to 60% smaller than our competitors with the same and often times better performance.
Inclusions of Chanson Revolution Counter Top Ionizer
 DVD – "7 LifeChanging Health Secrets: Harnessing the Power of Nature" with RonnieRuiz
 QuickStart Users Guide by Ronnie Ruiz (includes tips you won't find anywhere else!)
 Installation DVD with a step-by-step demonstration for your ionizer by Ronnie Ruiz
Faucet Adapter, Tubing, and Connectors to help make your installation as easy as possible
pH TestKit so that you can personally test your water levels and demonstrate the power of Chanson water to others!
Himalayan Rock Salt Sample to make the STRONGEST acid water possible!
 Citric Acid Sample for cleaning your Miracle M.A.X.
Chanson Owners Manual, your official welcome to the Chanson family.
Product Specifications:
Weight: 9.1 pounds
Filter Life: 9000 L (approx.: 10 – 12 months of use)
Temperatures: 98 degrees F
Water Pressure: 8 – 90 PSI
Power Consumption: 5-150 Watts
Filter: 5-micron silver-impregnated coconut shell carbon block
Dimensions: Height 12″ x Width 9.75″ x Depth 5.5″
Effective Flow Rate: 3-4.5 liters per minute at 45 PSI water pressure
pH Levels: 1.8 to 12.1 with Laguna Hills CA source water
ORP Levels: +1,200 to -920
Number of Plates: 9 at 3.5″ x 7.25″ (364 square cm total surface area), 99.989% pure titanium with Chanson exclusive platinum clan nano-coating
---
We Also Recommend