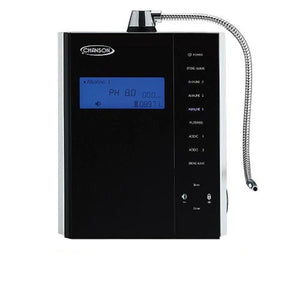 Chanson Miracle MAX Counter Top Water Ionizer
The best Water Ionizer in the market with 7
Nano-coated, titanium plates- Electrodes!
Chanson Miracle Max can make
 both acid and alkaline water for anyone with ANY water source. Powerful enough to be used for disinfecting by doctors, hospitals, dentists, spas, vets, restaurants, the food industry, and home use. The first ionizer ever to use mineral rich nutritional Himalayan rock salt to create acid water.
pH Levels: Max PH= 1.8 to 12.1, Max ORP= -920 – Water tested in Laguna Hills, Ca.
ORP Levels: +1,200 to -920
Effective Flow Rate: 2 – 2.5 liters per minute at 45 PSI water pressure
Number of Plates: 7 at 3.5″ x 7.25″ (364 square cm total surface area), 99.989% pure titanium with Chanson exclusive platinum clan Nano coating
Dimensions: Height 12″ x Width 9.75″ x Depth 5.5″
Weight: 9.1 pounds
Filter Life: 20000 L (approx.: 10 – 12 month of use)
Temperatures: 98 degrees F
Water Pressure: 8 – 70 PSI
Power Consumption: 50-125 watts
Filter: 5 micron silver impregnated coconut shell carbon block
Warranty: Lifetime Warranty
Commercial Grade: 

Unlimited flow time able to with stand commercial grade usage.
What are the benefits of Alkaline Ionized Water?
The Minerals from alkaline ionized water are more bio-available and more powerful to help your daily minerals requirements satisfied. 
Alkaline water is great for all food preparation and cooking it enhances the taste of foods.
Alkaline water is the best antioxidant and seeks out free radicals to help fight against illness and diseases.

This provides higher level of absorption and hydration to your body, so it accelerates the metabolism to keep you feeling young and healthy.

It may help reduce high blood pressure, sugar, and cholesterol due to dehydration.

A study published in Annals of Otology, Rhinology & Laryngology shows that alkaline water at pH 8.8 appeared to reduce the acidity of the stomach contents.
How to make an Extra b acid water?
The MAX can make this b acid water at up to ½ Liter per minute! Super acid water- no chemicals- no dangerous fumes, no toxic warnings, all naturals, and ready to go right away!  Approved as safe for humans and animals by USA FDA and EPA.
100% of MAX users will be able to achieve this super acid water, by simply dropping a rock of Himalayan Salt into the basket and choosing the acid water setting. In addition, other ionizers that can reach a 3pH and below can only do so producing water at a slow trickle. This can make filling up a spray bottle for home use a long and arduous task.
 Acid water has over 500 uses! It is incredible for skincare and has been proven to kill 99.9% of bacteria! It can replace up to 50% of household chemical cleaners. The best disinfectants for hospitals, homes, floors, sinks, toilets, and still be safe to spray on your skin, wounds and food? 
NOTE: The use of Himalayan Rocks Salts are not required, they are a bonus for those who want extra b acid water and/or an extra energy lift from the drinking water.
Reasons why customers chose Chanson Max Ionizer:
7 Titanium Plates Electrodes - Chanson titanium electrode plates have been independently lab tested at 99.998 % pure titanium! Larger plates allow for better water flow. A full 364 square inches total ionization surface area that can out perform even an 11-plate ionizer. Chanson electrode coating is up to 6 times thicker than other competitors, long life guarantee.
With RAD Self Cleaning System - One of the smartest functions is that RAD is activated every time b Acidic or Alkaline water is used. This cleans any unwanted acidic or alkaline left overs in the machine which reduces performance and machine life. It ensures continued maximum performance by removing any particles that may have gotten in to the ionizing chamber and any build-ups on the electrodes. This patented system not only provides you with a long lasting endurable ionizer, but also safety.
Flow Control Valve to adjust -  Use your side control flow valve to increase or decrease flow rate and water strength to get the best results. No metals used, this is an advanced Ceramic valve that will perform year in and year out.
150 Watts Power Needed - Chanson engineers have learned in over 20 years of servicing and manufacturing ionizers that you can't have both high wattage and long plate life. It has to be one or the other. Chanson MAX uses an advanced electronic delivery system that allows lower power usage, which extends the life of the plates and easily performs as well or better than ionizers using up to 500 watts and 9 plates! Lower power means less heat, and less heat means longer life to all components inside the ionizer.
Non- overheating - This 4th generation SMPS is perfected, giving the Chanson Max a distinct advantage in runtime and power delivery. Not simple SMPS (Switched Mode Power Supply), this is 4th generation SMPS, the same power supply used in the newest 3D flat panel TVs. It applies stable power to avoid issues such as overheating, noise and loss of power. The MAX can run all day long at the best power level without overheating, even at slow water flow levels. 
5 Micron Chemical Free Filter - Easy to change! The Miracle M.A.X. uses the same filter as all of our other ionizers. It is a compressed carbon block that is silver impregnated to prevent mold growth. It filters chlorine, lead, bad taste and odor. The filter will last for 3000-5000 gallons, or 12 months, whichever comes first. 
Waterproof -  Beautiful glossy black and silver finish compliments any kitchen. Display is an all touch panel  no buttons. 
Fully adjustable pH settings -  Three standard acidic levels, 4 alkaline levels, and 1 filtered only level, each level is micro-adjustable. Want pH9.3instead of 9.5? Now its right at your fingertips.
Advanced CPU and Full Display - Built-in semiconductor chip (CPU) automatically controls electrode bath and water quality to find the optimal operating condition. The CPU controls different languages, and the Chanson machine can speak and play musical sounds.
Installed Easily - Can be installed with standard faucet diverter included or, direct tube or, with Chanson G2 accessory faucet. All are super easy to install and we include a video to show walk you through each step. Click the "Videos" below to see installation videos. 
Max Includes the following:
 DVD – 7 Life Changing Health Secrets: Harnessing the Power of Nature" with Ronnie Ruiz
Quick Start Users Guide by Ronnie Ruiz (includes tips you won't find any where else!)
Installation DVD with step-by-step demonstration for your ionizer by Ronnie Ruiz
Faucet Adapter, Tubing, and Connectors to help make your install as easy as possible
pH Test Kit so that you can personally test your water levels and demonstrate the power of Chanson water to others!
Himalayan Rock Salt Sample to make the STRONGEST acid water possible!
Citric Acid Sample for cleaning your Miracle M.A.X.
Chanson Owners Manual, your official welcome to the Chanson family.
---
We Also Recommend