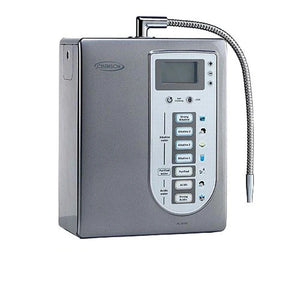 Chanson Miracle Counter Top Water Ionizer
Easy to use 
7 electrode plate counter top ionizer, especially great for home use and for those who live in hard water areas.
Packages:
Basic
- Miracle Counter Top Water Ionizer
Deluxe
- Miracle Counter Top Water Ionizer + Pre-Filter
 Premier
- Miracle Counter Top Ionizer + Pre-Filter + Armor
Imperial
- Miracle Counter Top Ionizer + Pre-Filter + Armor + G2
Master
- Miracle Counter Top Ionizer + Pre-Filter + Armor + G2 + Shower Filter
Miracle Counter Top Water Ionizer Includes:
7 Electrode Plates - 

The cutting edge design and proven durability of electro-plated platinum ensures you get the best ORP (Oxidation Reduction Potential) alteration and functional durability throughout the life of the ionizer.

Lower Wattage with Optimal Performance - 

 platinum and titanium electrode plates only consume about 150 watts of power and still out-perform almost every other ionizer brand on the market. 

The Miracle Makes Some of the Highest and Lowest pH Levels of Any Ionizer -   pH = 2.4 – 11.7 (at full flow with no chemical alternation – can be made stronger by reducing water flow)  Note: pH and ORP always depend on source water and vary as with any brand. Water tested in Laguna Hills, CA
On board 5 Micron Chemical-Free Filter - 

The filter will last for 3000-5000 gallons, or 12 months, whichever comes first. 

It is a compressed carbon block that is silver impregnated to prevent mold growth. It filters chlorine, lead, bad taste and odor. 

This filter gets the job done, but we recommend always pre-filtering the water first.

Easy Controls - 

Just touch the control screen and select the type of water you want.

pH consistency - 

Chanson water ionizers adjust the electrolysis amperage automatically to keep alkaline levels consistent.

Self-clean function - 

automatically set its cleaning cycles based on the mineral content of your water. Cleaning always occurs after you turn the machine off allows the machine to perform maintenance without ever interrupting your water usage. The Violet will automatically go into a flushing cycle each time you turn on your ionizer. This is a wonderful feature for an under sink ionizer because it allows any standing water in the line to be flushed out before you drink.

Auto-Adjust function - 

The Chanson water ionizer can auto-adjust "the remaining water filter life" and "time of self-clean" according to your water quality. You will have your own personalized water ionizer settings!

Auto Shut-off function - 

The Chanson Ionizer has an auto shut off at 20 minutes to prevent flooding in case left on by accident. The machine can be turned right back on if need be.

Chemical-Free Strong Acidic Water - 

Chanson ionized acidic water with a pH of 2.7 has been third party verified to kill E.coli and staph on contact in 70% of water sources without chemical alteration. For the remaining 30% (those who live in soft water areas), we offer our Miracle M.A.X. ionizer, which is the first to use Himalayan salt instead of chemicals to achieve strong acid water for those with source water issues.

 Filter Life Notification - The remaining water filter life will be auto-adjusted according to your water quality. The LCD screen displays the remaining filter life, reminding you to change your filter when necessary.
Why customers chose Chanson ionizers?
 ISO 9001 Certified

(RoSH) Chanson Water cares with hazardous substances

Chanson Water is anti-bacteria certified
Tested by independent and prestigious lab and its alkaline water is considered  higher anti-oxidization value.   
National Standard Foundation International(NSF) compliance.

Chanson is a 30+ year old Taiwanese water filter manufacturer and is a well-known household name in Taiwan with a stellar reputation for quality




and affordability. 

100% health products manufacturer.

Counter top models are up to 60% smaller than our competitors with the same and often times better performance. M

ost compact 

and space saving.

"Nano coating" process which provides an extremely dense and conductive electrode surface which creates
superior ionization.

FREE shipping to US and Canada

Lifetime warranty on parts and 5 years on labor
Chanson Violet includes the following 6 FREE bonus items:
FREE Quick Start Users Guide by Ronnie Ruiz (includes tips you won't find anywhere else!)
FREE Installation DVD with step-by-step demonstration for your ionizer by Ronnie Ruiz
FREE Faucet Adapter, Tubing and Connectors to help make your install as easy as possible
FREE pH Test Kit so that you can personally test your water levels and demonstrate the power of Chanson water to others!
FREE Citric Acid Sample for cleaning your Violet
A Chanson Owners Manual, your official welcome to the Chanson family!
Product Specifications:
Dimensions:

 

Main Unit: 4.72 inches deep x 8.86 inches wide x 13 inches tall
Effective Flow Rate:

 

2.0 – 2.5 liters per minute at 45 PSI water pressure
PH Levels:

 

2.5 to 11.7 in Laguna Hills, CA source water
ORP Levels:

 

+1,180 to -865
Number of Plates:

 

7 platinum coated plates
Weight:

 

11.0 lbs
Filter Life:

 

20000 Liters (approximately 10 – 12 months of use)
Temperatures:

 

5 – 40 degree Celcius
Water Pressure:

 

5 – 95 PSI
Input:

 

220V / 50Hz – 110V / 6Hz
Power Consumption:

 

5w – 150w
---
We Also Recommend